Private Parties
It is with profound sadness that we announce Handke's Cuisine and encore closed at the end of service on Thursday, June 18, 2009.
Gift Certificates from Handke's Cuisine are accepted by Trattoria Roma and The Refectory.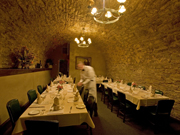 At our restaurant, we offer the Short Vault, and the Long Vault rooms for your in-house private dining needs. The capacity for the Short Vault is 35-40 guests, and the Long Vault is approximately 64 guests (or 8-10 semi-private).
Please complete the private party request form below or call our catering line at (614)621-2500 to schedule a private party or to inquire about our catering services.